Minimal WordPress Theme from ElegantThemes is really one of the best minimal themes I have seen. It manage to take advantage of the principles of minimalistic web design and still it has cool features normally not available in minimalistic WordPress themes. I like that it is part of ElegantThemes huge collection of high quality themes and I simply think their offer stands out! Minimal WordPress theme is a great theme for those who want to give their blog a truly simple and elegant feel without sacrificing any of the advanced features you have come to expect from premium themes developed by vendors like ElegantThemes. The colors are easy on the eye, and the overall minimalist approach to the design makes for a relaxing and user-friendly experience for your visitors. Minimal comes with two different color variations. If you don't like the lighter version, then try out the darker variation or simply look for some other simple WordPress themes. Even though Minimal was created to be a CMS with a Page-Based structure, you can also run the theme like a normal blog instead. Let's take a closer look!

Disclosure: Please note that some of the links below are affiliate links and I will earn a commission if you purchase through those links (at no extra cost to you). I recommend that you do your own independent research before purchasing any product or service. This article is not a guideline, a recommendation or endorsement of specific products.
[exec]$filestr = file_get_contents('http://tripwiremagazine.com/googleadsensebelowmoretag.inc');echo $filestr;[/exec]
The CMS style front page can seen below in full length. The navigation is simple but effective and the slider is well integrated into the page in a minimalistic way. Below the slider you see an area of widgets and this is a really cool and useful thing when you build your site.
Blog Section and BlogStyle Post Format
Even though the demo is page-based, you will see there is a blog section as well. Furthermore, you can always switch to BlogStyle mode which will replace your homepage with a more traditional blog layout. You can also choose to populate the featured slider with your favorite posts instead of pages. This makes the theme very versatile, hopefully satisfying the needs of both the traditional blogger as well as those who plan to use the theme to create a more page-based. Below you can see the blog style in action. Still if used this way it is an outstanding minimal WordPress theme.
Minimal WordPress theme two color variations
Minimal WordPress Theme also have ElegantThemes Standard Theme Features
Beautiful and elegant design aren't the only things that makes a WordPress theme great. Ease of use and customization is more important and this is where Elegant Themes have put in a huge effort to make sure their themes are among the best.
Outstanding theme options
Easy to Manage- The integration of ePanel makes managing Minimal a breeze.The options panel (ePanel) in elegant themes is over the top! They created a very user friendly and extremely solution giving you almost unlimited flexibility without the need for coding. I recommend you check out this video to see it in action.
Shortcodes
Designing and organizing your posts will be much easier with the shortcodes provided in all the Elegant Themes. Shortcodes is seen in more and more premium themes and of cause you also get a huge library with these themes. This will greatly improve the functionality and variety of your content without the frustration that comes with learning advanced web development techniques.
Page Templates
Elegant Themes Page templates are expected in good themes as they make your life easier by giving you access to pre-made styles and functions. Each template can be applied to an individual page, transforming the way it looks and functions to create additional and unique forms of content.
Complete Localization
The themes have been localized for easy translation. Included with each theme are sets of .mo and .po files that can be used to translate the theme, which means you wont have to spend hours searching through PHP files for English words.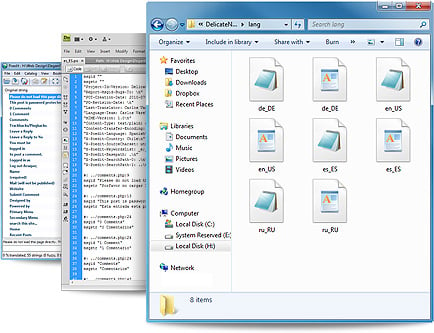 Download / Demo – by ElegantThemes (Premium theme)
simple WordPress themes
Lars is passionate about web design, web development, SEO, social media and loves to look into new technologies, techniques, tools etc. and to write articles for tripwire magazine readers.