Clean and simple web design is popular and for a reason.
It is simply very effective for communicating to visitors and calm presentation typically makes it easy to navigate and pleasant for the eye.
Feather has a light and airy quality that gives your website a fun and care-free vibe. It is a clean WordPress theme and it is simple, but at the same time it has subtle details and textures. If you are looking for a subdued design that is still stylistic and impressive, then Feather just might be the theme for you. It comes with several page templates, CMS style font page, sliders, portfolio capabilities, shortcodes and much more. Feather was created by ElegantThemes and Seriously I believe they have one of the best and most reasonable prices WordPress Themes offerings. Remember to check out the demo page.
Disclosure: Please note that some of the links below are affiliate links and I will earn a commission if you purchase through those links (at no extra cost to you). I recommend that you do your own independent research before purchasing any product or service. This article is not a guideline, a recommendation or endorsement of specific products.
[exec]$filestr = file_get_contents('http://tripwiremagazine.com/googleadsensebelowmoretag.inc');echo $filestr;[/exec]
First we'll take a look at Feathers front page layout. It is a good looking clean wordpress theme with a smart and interesting layout not seen that often.
Feather features
Unlimited color schemes. Feather comes with various background textures and the ability to adjust the background color and font colors giving you an unlimited number of possibilities.  Try out the demo and try out changing the colors and the texture dynamically.
Dozens of fonts.

Feather comes with various font options, allowing you to adjust the header and body text independently.
Advertising management. With Feather you can place 125×125 banner images in your sidebar and 468×60 ads to your post pages with ease. Advertisements are handled from within wp-admin, and can be turned on and off at any time.
Elegant Themes Standard Theme Features also available in Feather
Beautiful and elegant design aren't the only things that makes a WordPress theme great. Ease of use and customization is more important and this is where Elegant Themes have put in a huge effort to make sure their themes are among the best.
Outstanding theme options
The options panel in elegant themes is over the top! They created a very user friendly and extremely solution giving you almost unlimited flexibility without the need for coding. I recommend you check out this video to see it in action.
Shortcodes
Designing and organizing your posts will be much easier with the shortcodes provided in all the Elegant Themes. Shortcodes is seen in more and more premium themes and of cause you also get a huge library with these themes. This will greatly improve the functionality and variety of your content without the frustration that comes with learning advanced web development techniques.
Page Templates
Elegant Themes Page templates are expected in good themes as they make your life easier by giving you access to pre-made styles and functions. Each template can be applied to an individual page, transforming the way it looks and functions to create additional and unique forms of content.
Complete Localization
The themes have been localized for easy translation. Included with each theme are sets of .mo and .po files that can be used to translate the theme, which means you wont have to spend hours searching through PHP files for English words.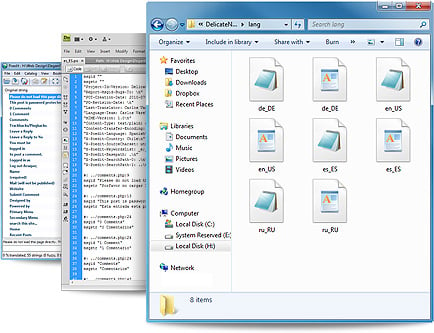 Get Feather theme here.
Lars is passionate about web design, web development, SEO, social media and loves to look into new technologies, techniques, tools etc. and to write articles for tripwire magazine readers.